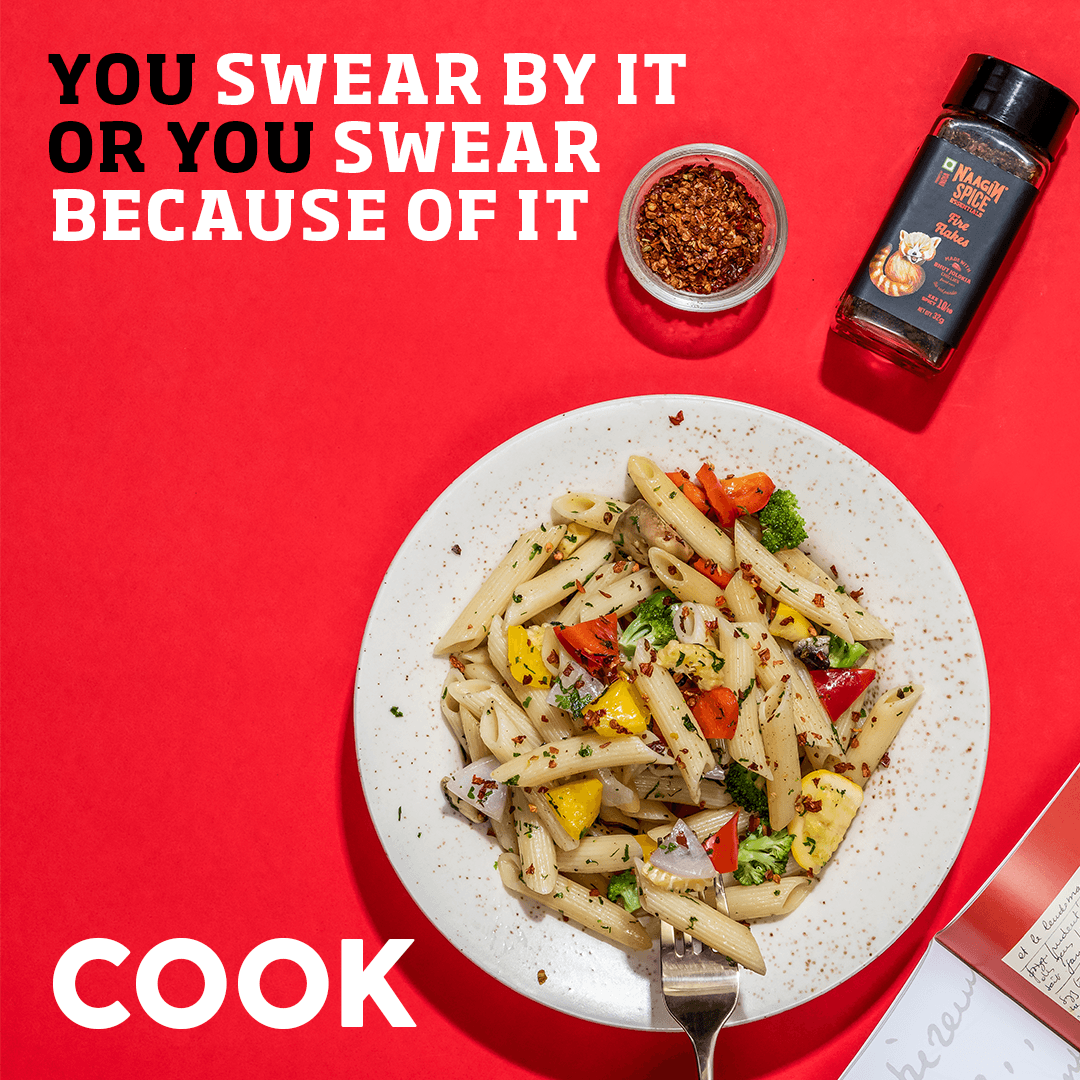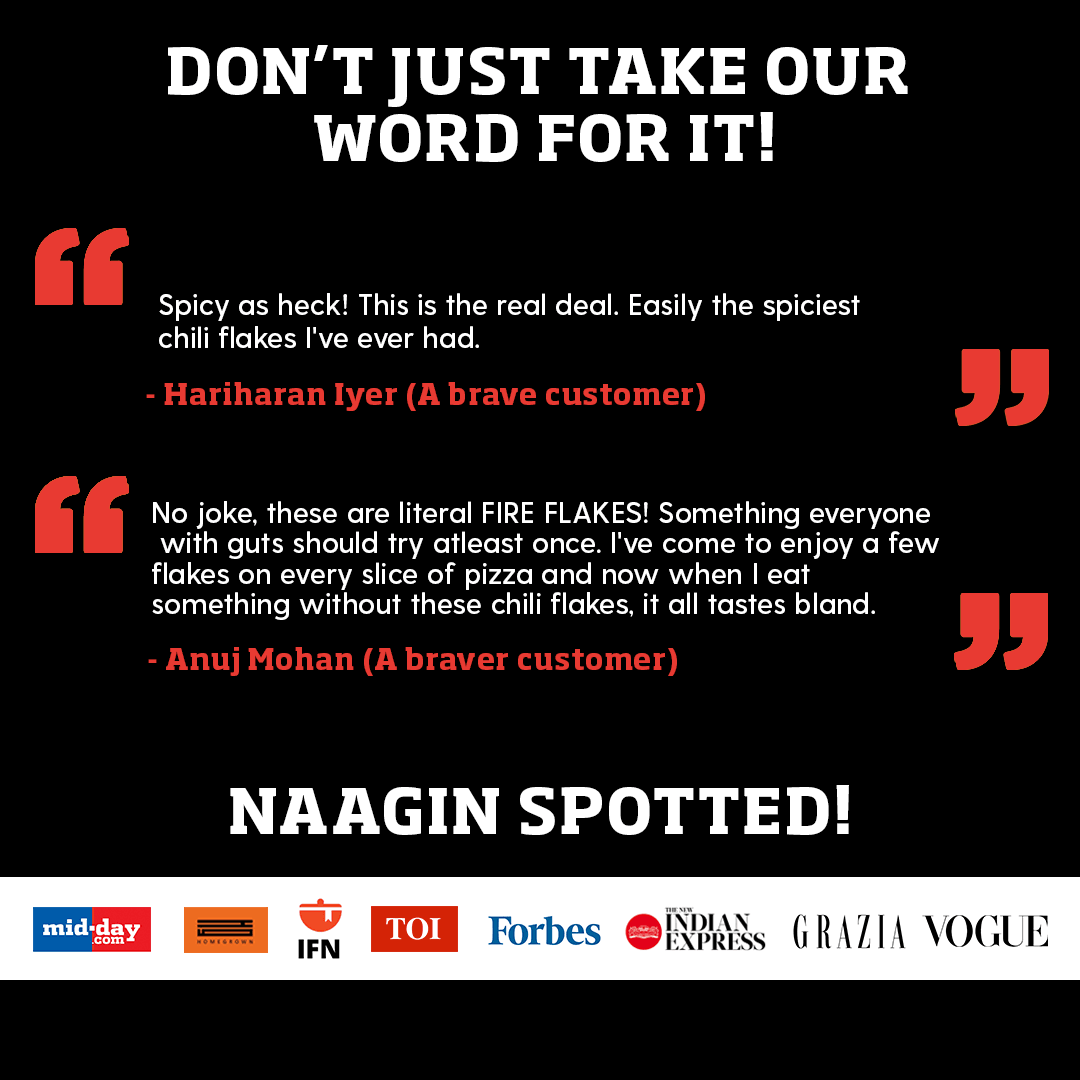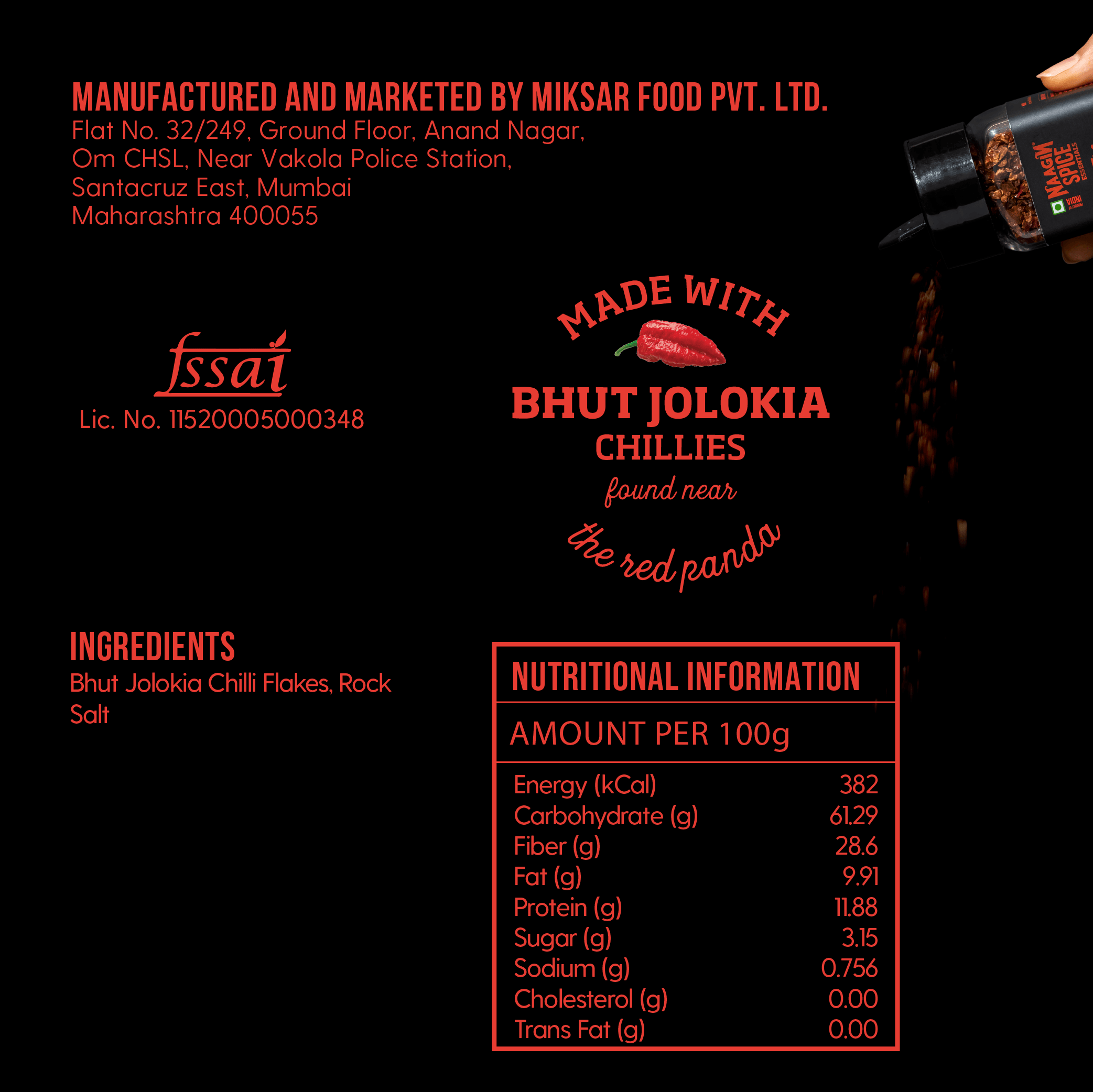 Fire Flakes
Rs. 200.00 Rs. 399.00
Hottest chilli flakes in India - Perfect for anyone who wants the Bhut Jolokia experience handy, anytime anywhere.
Net Weight - 32 gms
Proudly Made in India

Ships in 1-2 working days
Free Shipping on orders over Rs. 500
Flavour Profile
We know our chillies and given how much people have loved our Smoky Bhoot hot sauce (and asked us why it's not spicy enough), we felt obliged to just give these fine folks what they really want but didn't say - edible fire. Our Fire Flakes will blow your mind the second they touch your tongue! You've been warned.
That said, it can add a delightful undercurrent of heat to any food and can be appreciated by anyone. Just use it sparingly. Every. Flake. Matters.
Delivering the legendary flavour and fire from the Bhut Jolokia chillies in it's full glory, our slow-roasted Fire Flakes bring you all the fire and brimstone you can handle. Every bite takes you from the slow burn of the ghost as it creeps up on you and culminating in a fiery crescendo!
This is for all the daredevils who want a real Bhut Jolokia experience - XXX Spicy. Can you handle it?
Enjoy It With
Season, Rub, Sprinkle, Tastemaker
Indian - Dal-Tadka, Bhaaji, Gravy, Biryani, Pulao, Sambhar, Paratha-filling, Khakhra Dough, Pakoda batters.
Health Snacks - Toasties, Hummus, Fruit Salad (Guava, Pineapple Pear, etc.)
Breakfast - Fried Eggs, Masala Omelet, Bhurji, Avocado-Toast, Grilled Cheese
Asian - Noodles, Thai Chicken/Veg Curries, Momo-filling
Italian - Pizza, Pasta, Garlic Bread, Spaghetti, Lasagna
Continental - Grilled-Fried-Roast Meats/Seafood, Stir-fry Vegetables, Sandwiches, Salads, Soups & Stocks
Cocktails - Bloody Mary, Martini, etc.
WHAT WE BELIEVE IN

Real Ingredients

Premium Indian Chillies
Premium Indian Spices

100% Vegan

Local Produce
How hot are the spice essentials?
Are Fire Flakes bad for health?
How to handle the Fire Flakes?