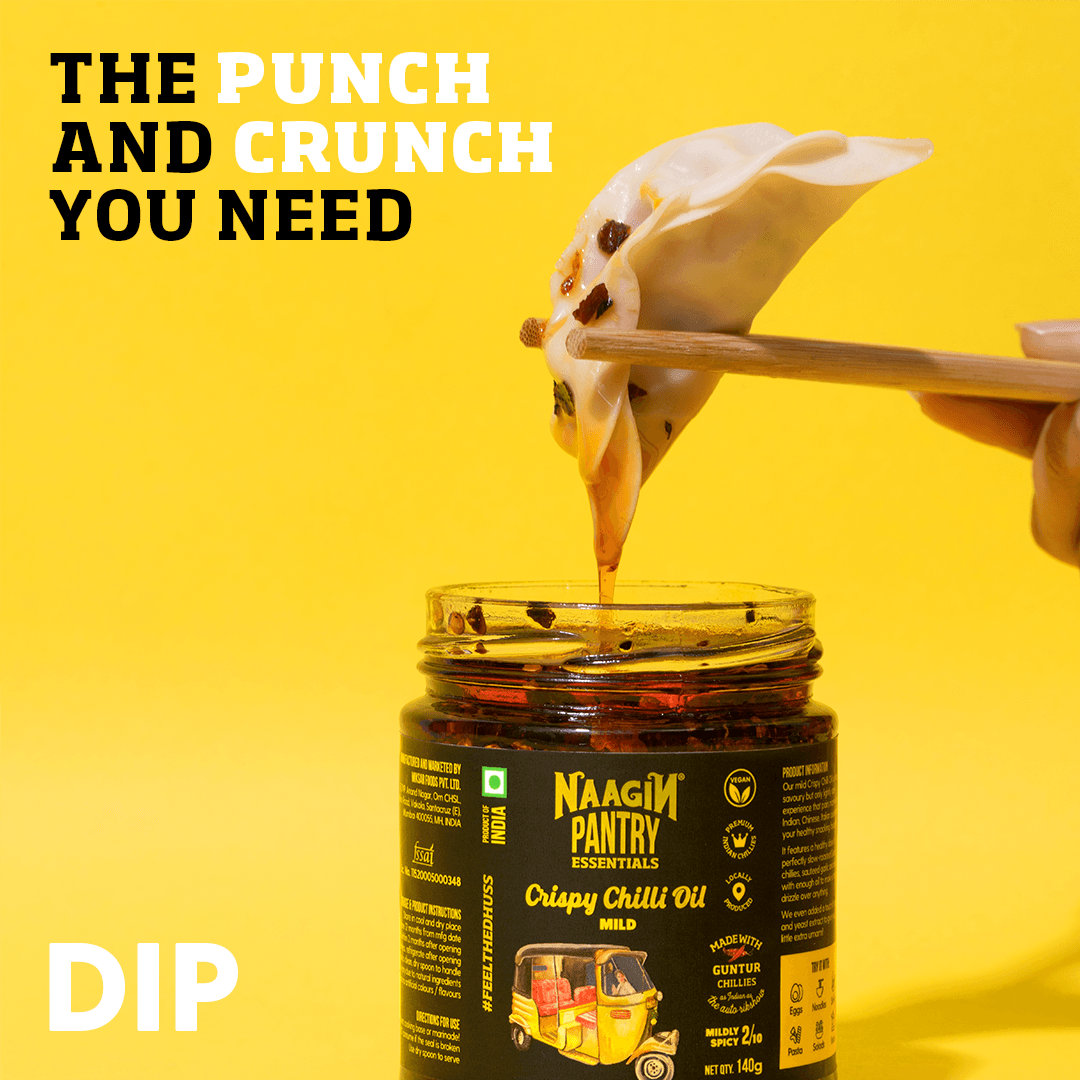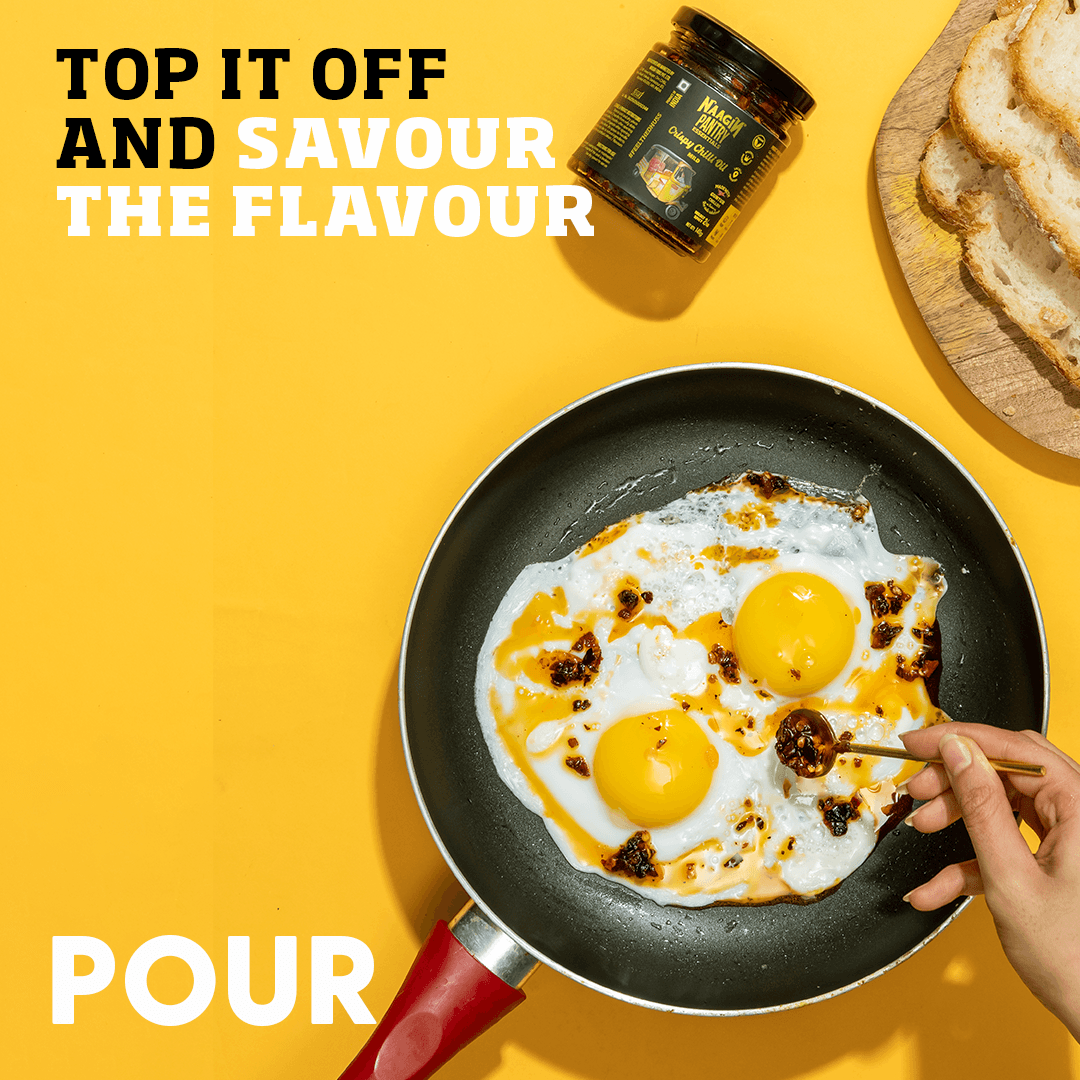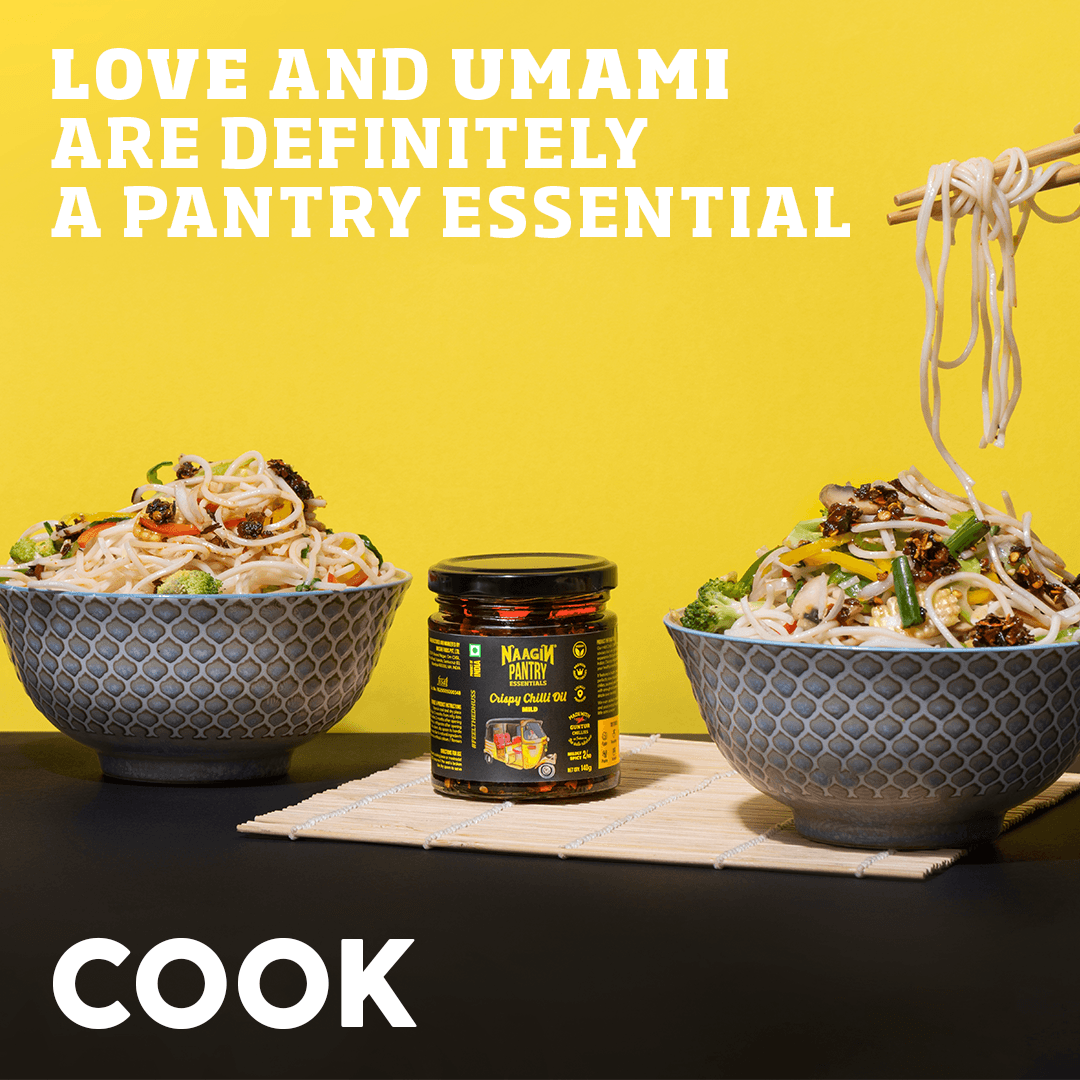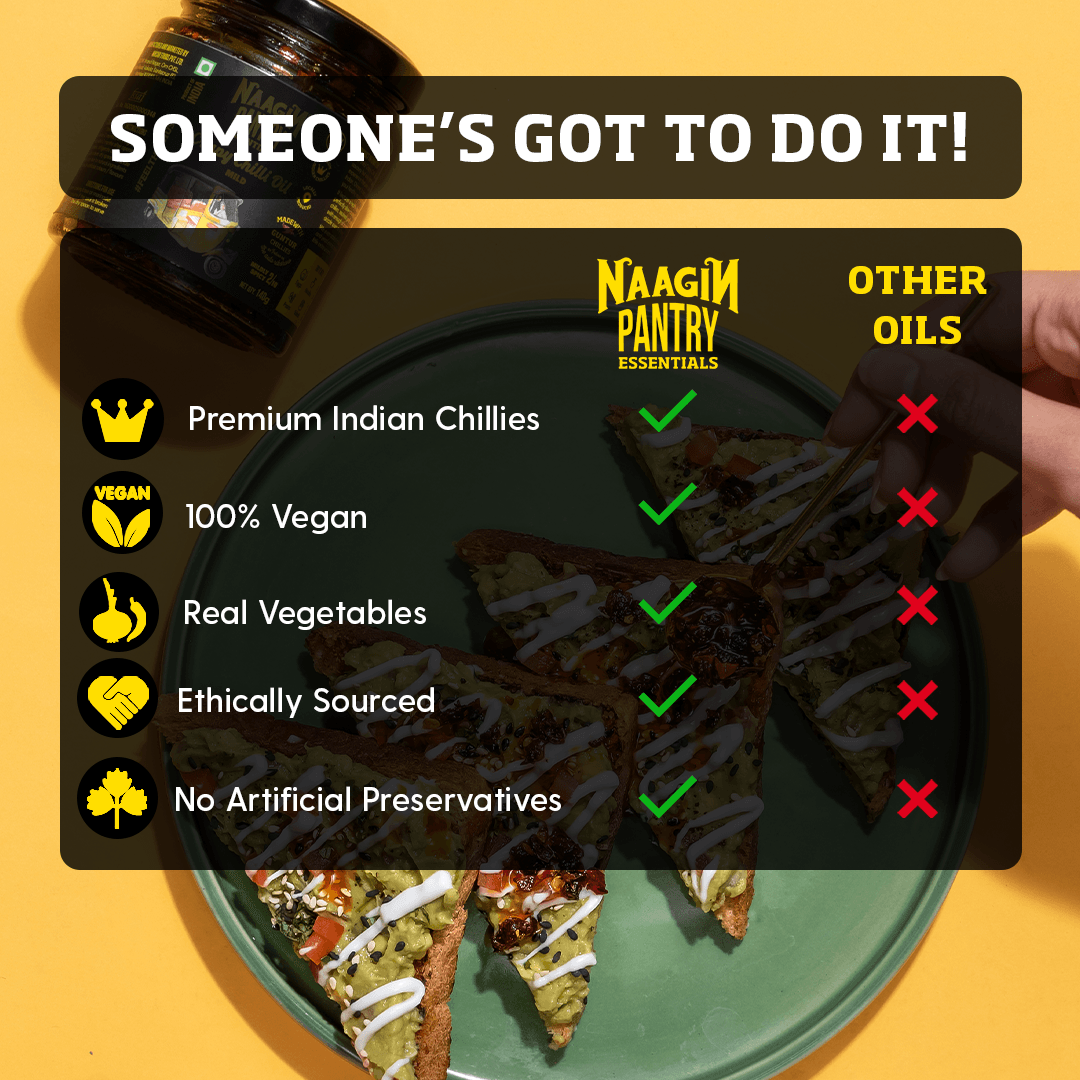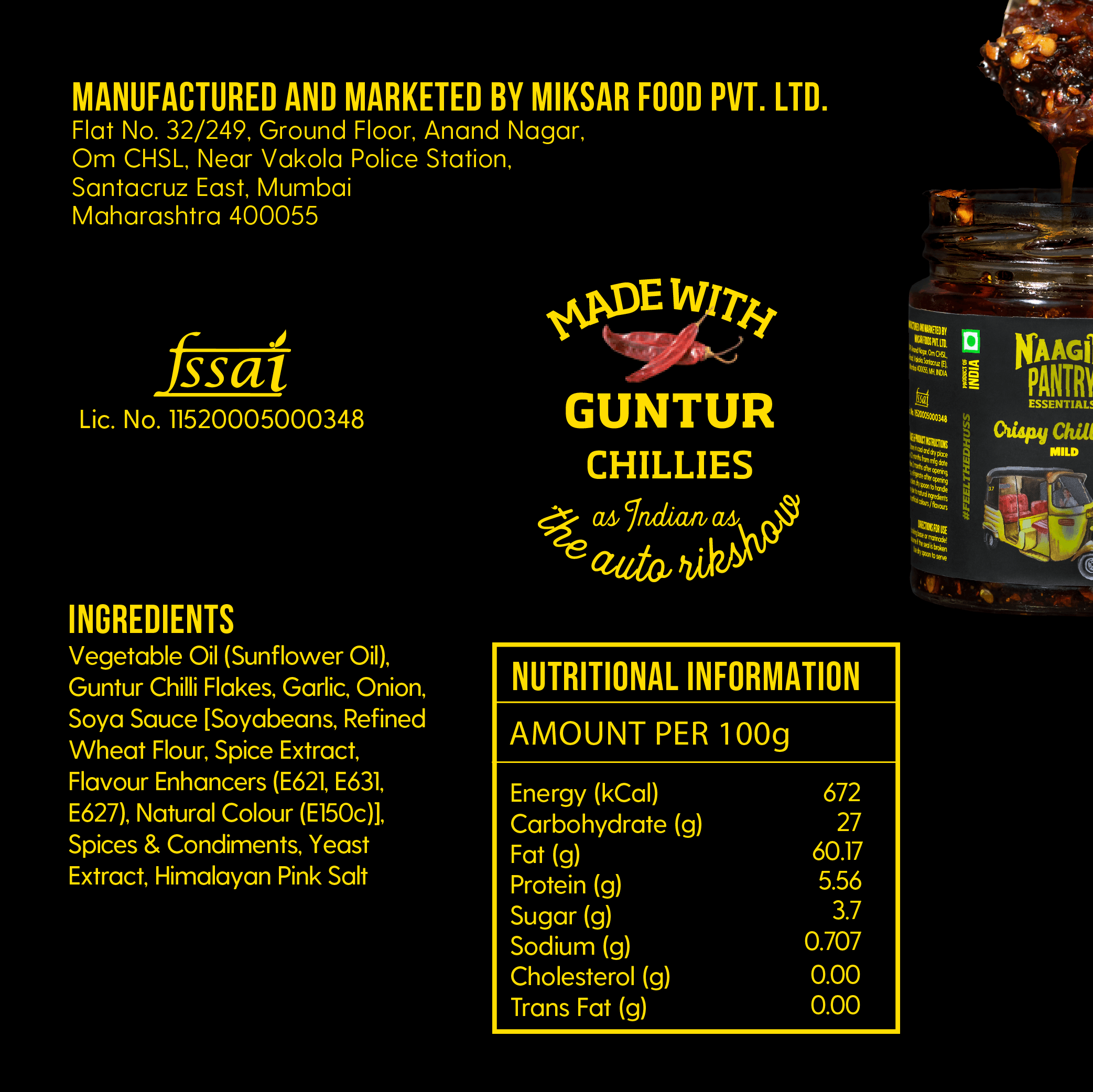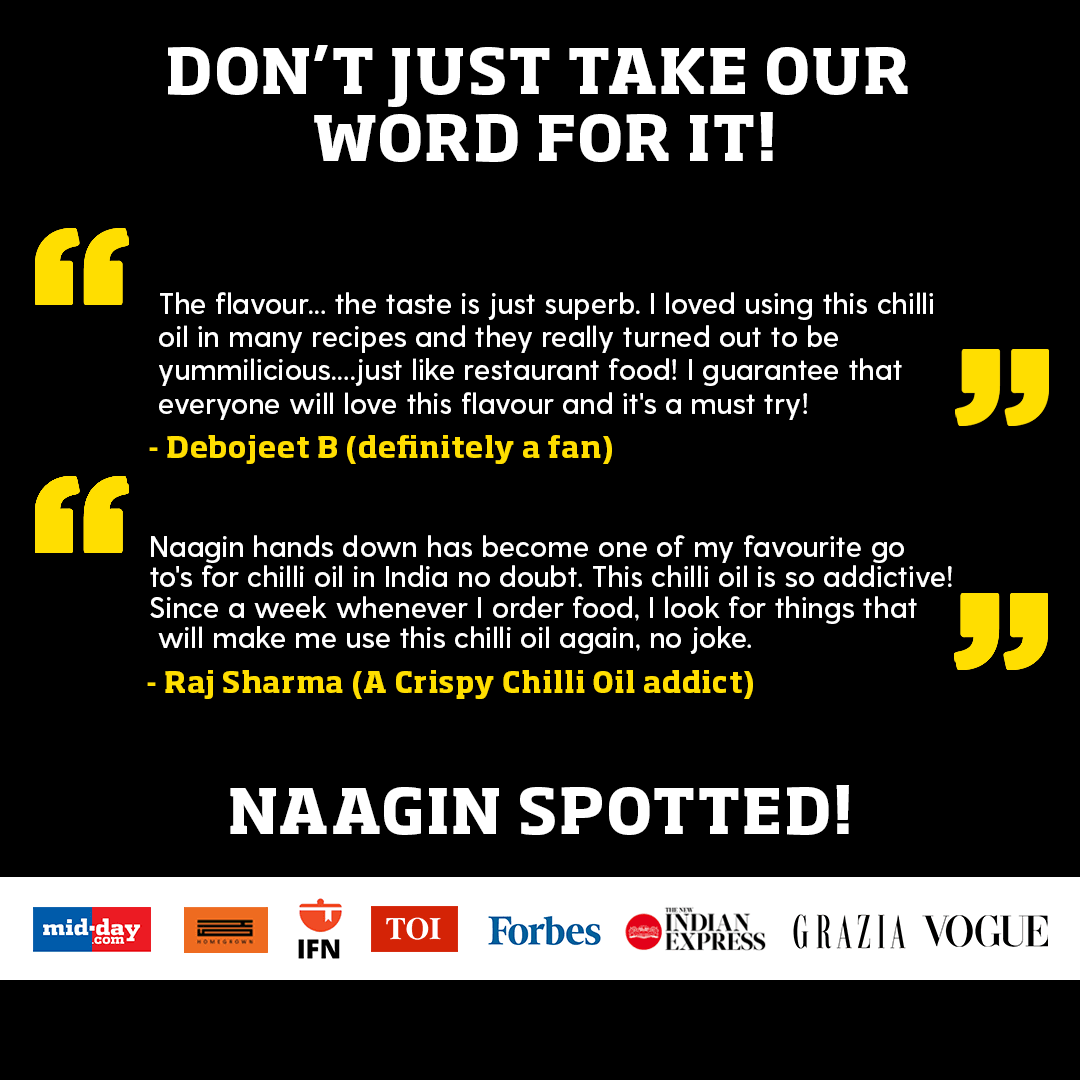 Crispy Chilli Oil
Rs. 400.00
A super versatile, savoury crispy delight. To add that extra crunch and punch to all your meals.
Net Weight - 140 gms/bottle
Proudly Made in India

Ships in 1-2 working days
Free Shipping on orders over Rs. 500
Flavour Profile
Naagin Crispy Chilli Oil is a truly savoury and only mildly spicy experience that pairs beautifully with Indian, Italian, Chinese and a host of other cuisines, as well as your healthy snacking favourites!
Designed for versatility, it uses a special blend of perfectly slow-roasted Guntur chillies, sautéed garlic and onions. Our Crispy Chilli Oil will instantly add both 'punch' and 'crunch' to your food. It's got a healthy dose of spicy and crunchy bits and enough oil for that perfect drizzle.
We're sure you'll find it a worthy new addition to your lifelong food exploration journey and you'll find yourself wide-eyed saying "Dude, that's awesome!"
Enjoy It With
Dip, Spread, Toss, Tadka, Marinade!
Indian - Dal-Rice, Momos, Khichdi, Bhaaji, Poha, Pulao, Idli
Health Snacks - Noodles, Toasties, Hummus, Fruit Salad (especially Cucumber, Mango & Papaya!), Vanilla Ice-cream
Breakfast - Fried Eggs, Masala Omelet, Bhurji, Boiled Egg, Avocado-Toast, Grilled Cheese
Asian - Noodles, Thai Chicken/Veg Curries,
Italian - Pizza, Pasta, Garlic Bread, Spaghetti, Lasagna
Continental - Grilled-Fried-Roasted Meats, Stir-fry Vegetables, Sandwiches, Salads
WHAT WE BELIEVE IN

Real Ingredients

Premium Indian Chillies
Premium Indian Spices

100% Vegan

Local Produce
How hot are the spice essentials?
What is umami?
Is too much Crispy Chilli Oil Unhealthy??
What are the usage and storage Instructions for Crispy Chilli Oil?