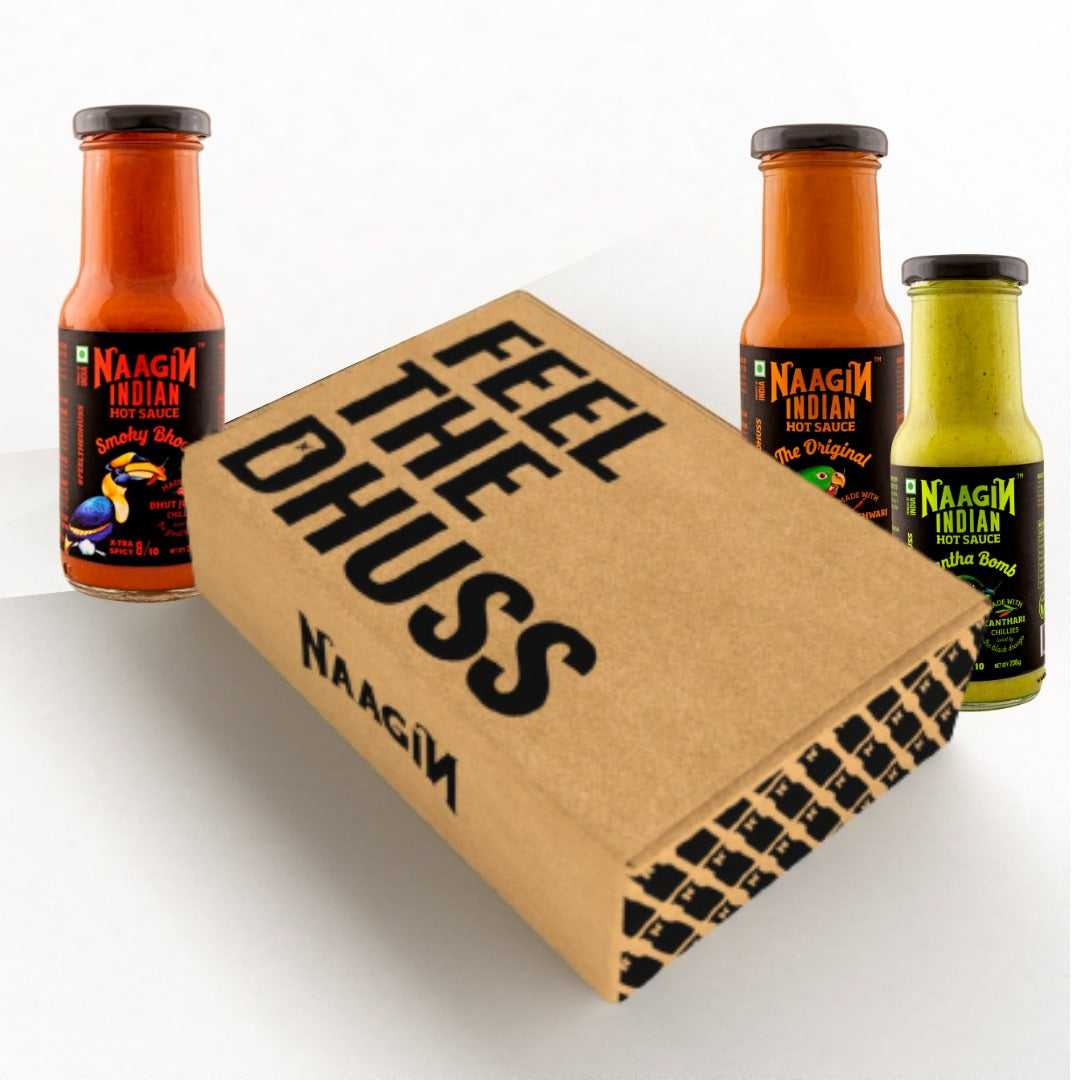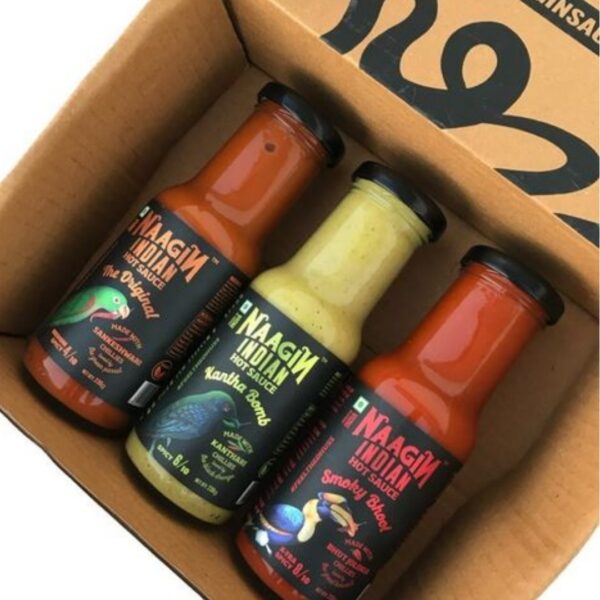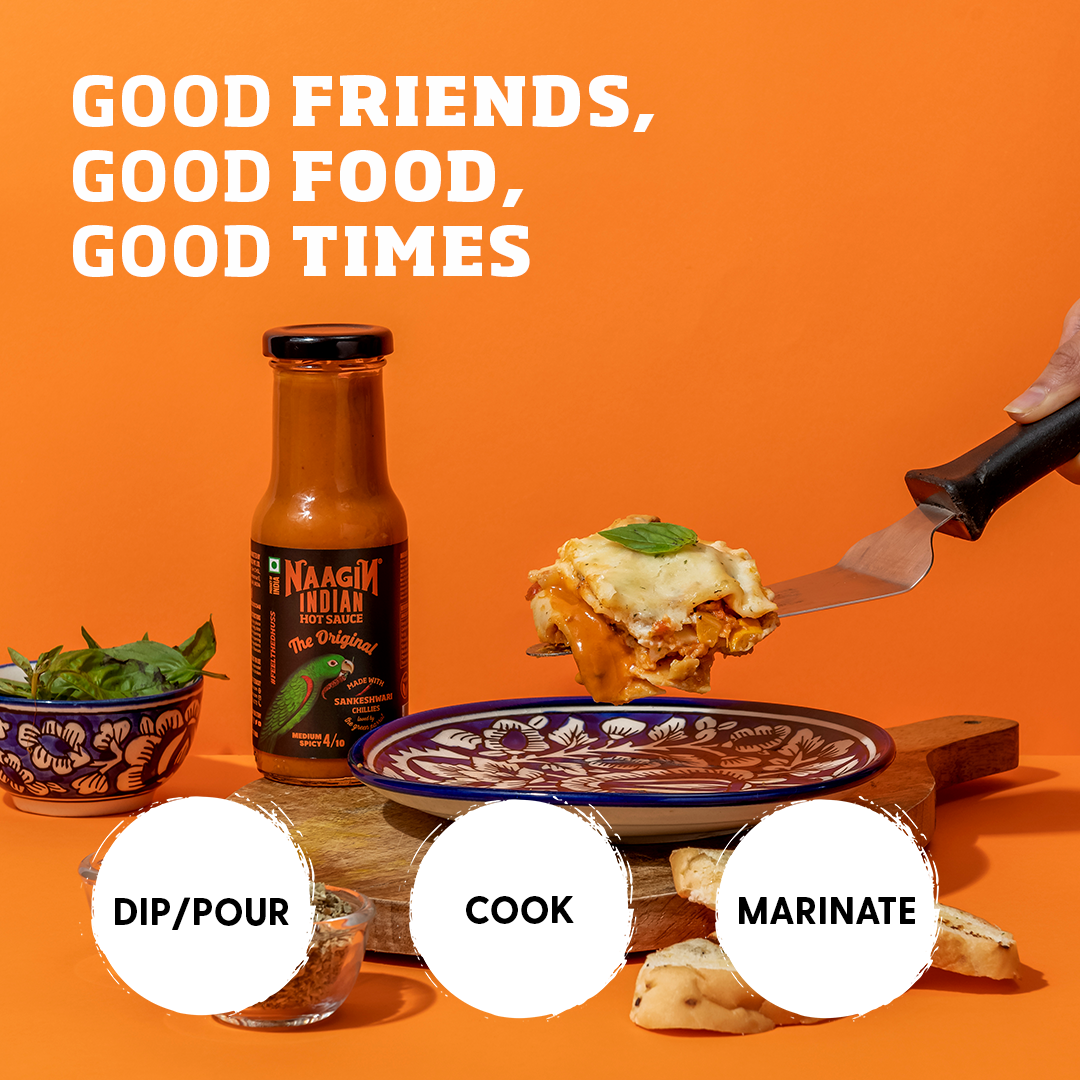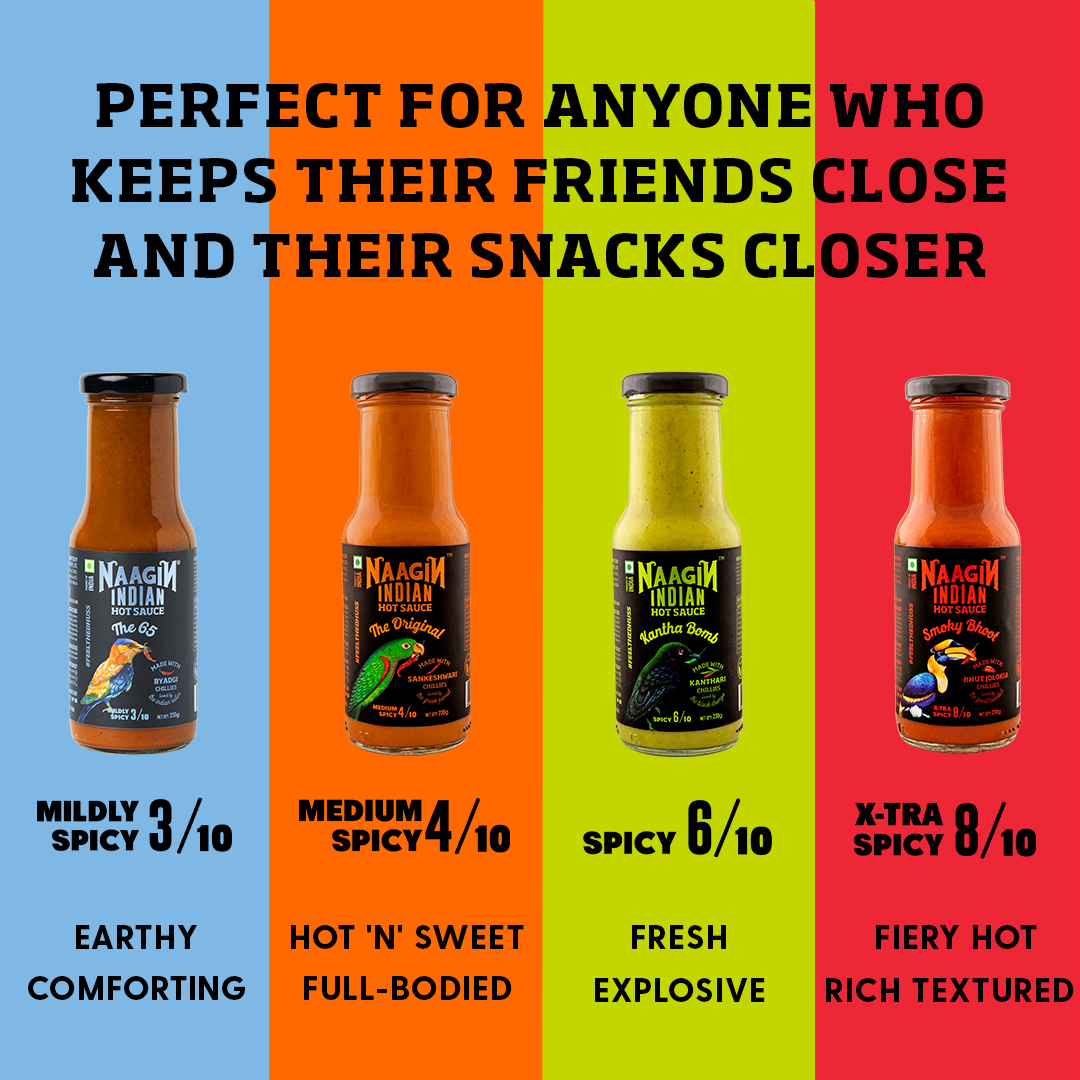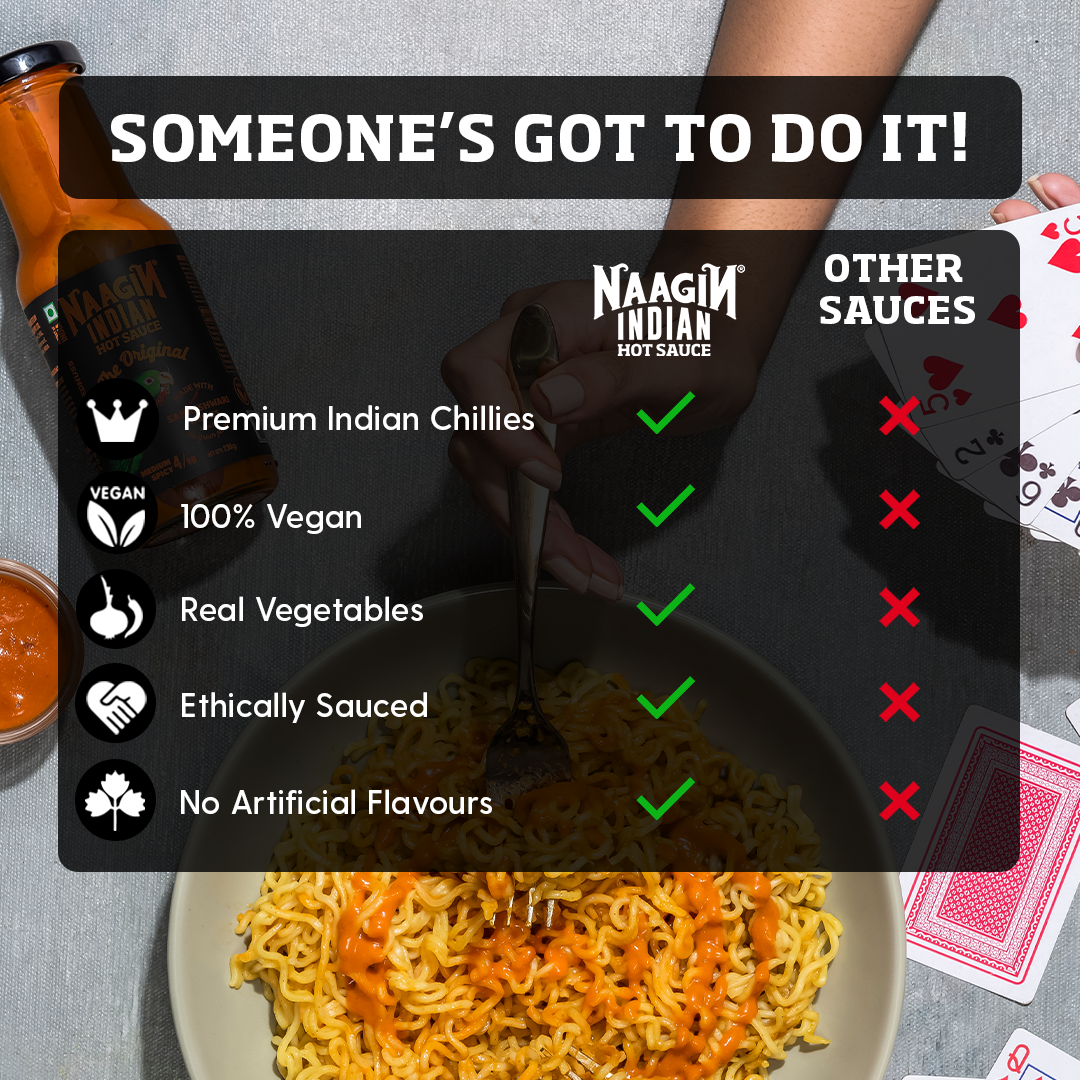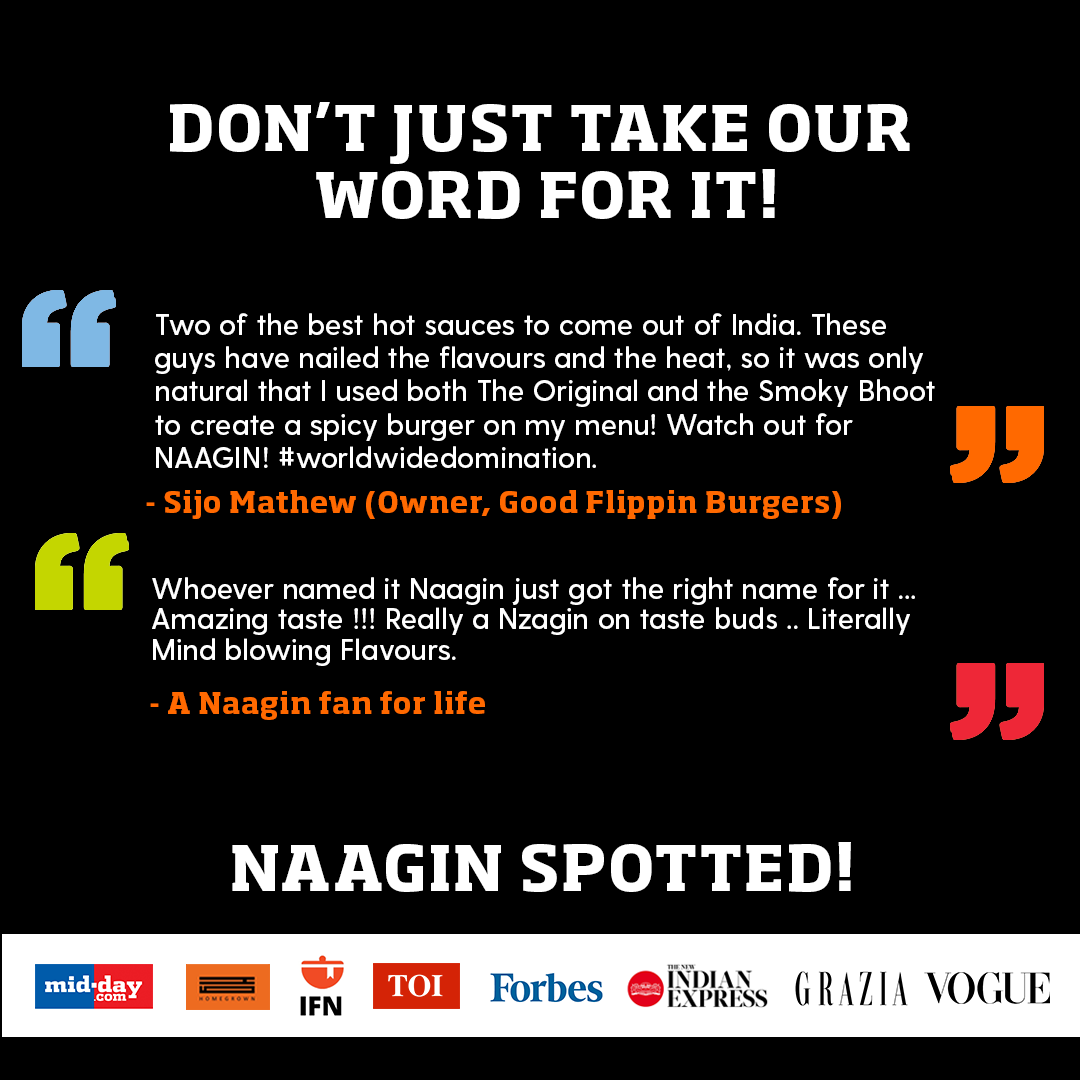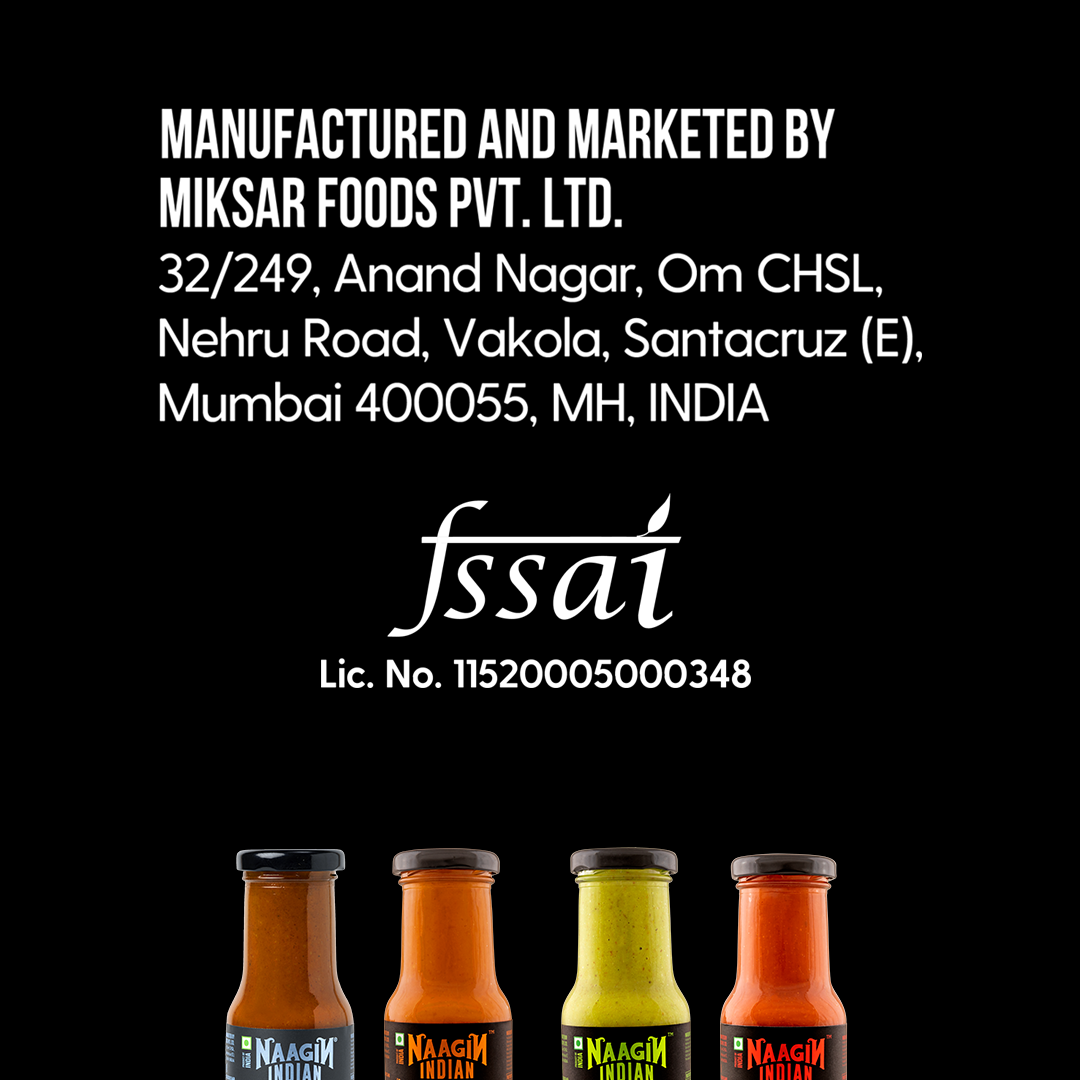 Naagin Or Nothing Gift Bundle
Rs. 750.00 Rs. 825.00
What's the perfect gift for your loved ones? A step in the right direction of course! The Naagin or Nothing Gift Bundle will help your loved ones find their path on their food exploration journey with our hot sauces which deliver heat levels across the spectrum!
Net Weight - 920gms
Proudly Made in India

Ships in 1-2 working days
Free Shipping on orders over Rs. 500
Flavour Profile
The Original
A full-bodied uplifter of the bland, The Original Indian Hot Sauce was painstakingly crafted specifically for the Indian palate. We blended real vegetables, a special blend of Sankeshwari & Bhavnagri chillies, and our secret ingredients to create a distinct and elegant flavour that offers a bit of sweetness and a bit of heat in every bite.
Smoky Bhoot
Highlighting the legendary flavour and fire from the Bhut Jolokia, our specially smoked chillies create a unique flavour for the rich-textured Smoky Bhoot. Every bite takes you from a hint of sweetness to a tidal wave of flavour before the ghost finally creeps up on you!
Kantha Bomb
Unlike any 'green sauce' you've ever had, the Kantha Bomb has a real freshness to it.
Wholesome and versatile, it's got everything you want in a hot sauce - a real explosion of flavours and the perfect amount of heat with the tastiest Indian chilli you've never heard of, the Kanthari.
The 65
Our homage to the classic South Indian flavour, with a twist! The 65 hot sauce is a condiment and cooking sauce that features the homely, earthy and spicy flavour of classic comfort food like chicken 65 and paneer 65.
Enjoy It With
Anything you can imagine!
Indian - Bhaaji-Roti, Poha, Tandoori Kebabs, Tikki, Pulao, Idli
Home Snacks - Toasties, Rolls, Bhujia, Vada Pav, Samosas
Eggs - Fried, Scrambled, Omelette, Bhurji, Boiled
Fast Food - Burgers, Fries, Burritos, Wings, Subs
Italian - Pizza, Pasta, Garlic Bread, Spaghetti, Lasagna
Continental - Burgers, Grilled-Fried-Roast meats, Stir-fry Vegetables, Sandwiches, Salads
Description
The Original
The Original' Indian Hot Sauce brings together the best of spicy flavours from Western India, featuring the Sankeshwari Chilli from Kolhapur District, Maharashtra.
Legend has it, this was inspired by vada pav masala, but the combination of ingredients gives you a flavour profile that you cannot find anywhere else. Bringing together the best of spicy flavours from Western India, 'The OG' sauce is a curated blend of fresh vegetables, chillies and our secret ingredient. You may have tried basic hot sauces in india but this, is The Original Indian Hot Sauce.
Kantha Bomb
The Kantha Bomb is far from generic and features the tastiest chilli you've probably never tried - the Kanthari - as premium as green chillies get. This Indian birds eye chilli is so bomb, it makes it's African (peri peri) and Asian (Thai birdys eye) cousins look bad.
A 'Covid lockdown' addition to the Naagin family, we kept our ingredients on the healthy side and simple - chillies, celery, turmeric, garlic, ginger - however thanks to the chilli and our special blend of fresh veggies, the flavour is quite complex. It's got a 'fresh' flavour you have to taste to appreciate and to our surprise (and joy) is quickly heading into the territory of becoming the new crowd favourite.
Smoky Bhoot
The Smoky Bhoot is not for the weak of heart (or stomach) – after all its unique and fiery flavour comes from the legendary Bhut Jolokia chilli from North-East India. You might have seen how YouTube is littered with videos of 'bros' pumped up enough to eat a whole Bhut Jolokia – only to crumble to the floor, pounding down milk!
Rich in texture, this hot sauce takes you on a sensory journey right from the first taste through to a full 10 seconds later when the heat finally breaks. Possibly the hottest sauce you'll find anywhere in India, we've toned it down so you can actually enjoy how special the chilli is, all mixed in with a flavour profile that will keep you coming back for more.
WHAT WE BELIEVE IN

Real Ingredients

Premium Indian Chillies
Premium Indian Spices

100% Vegan

Local Produce
What is capsaicin?
How hot are the sauces?
Is eating too much chilli bad for you?
How do I get rid of the burning feeling?