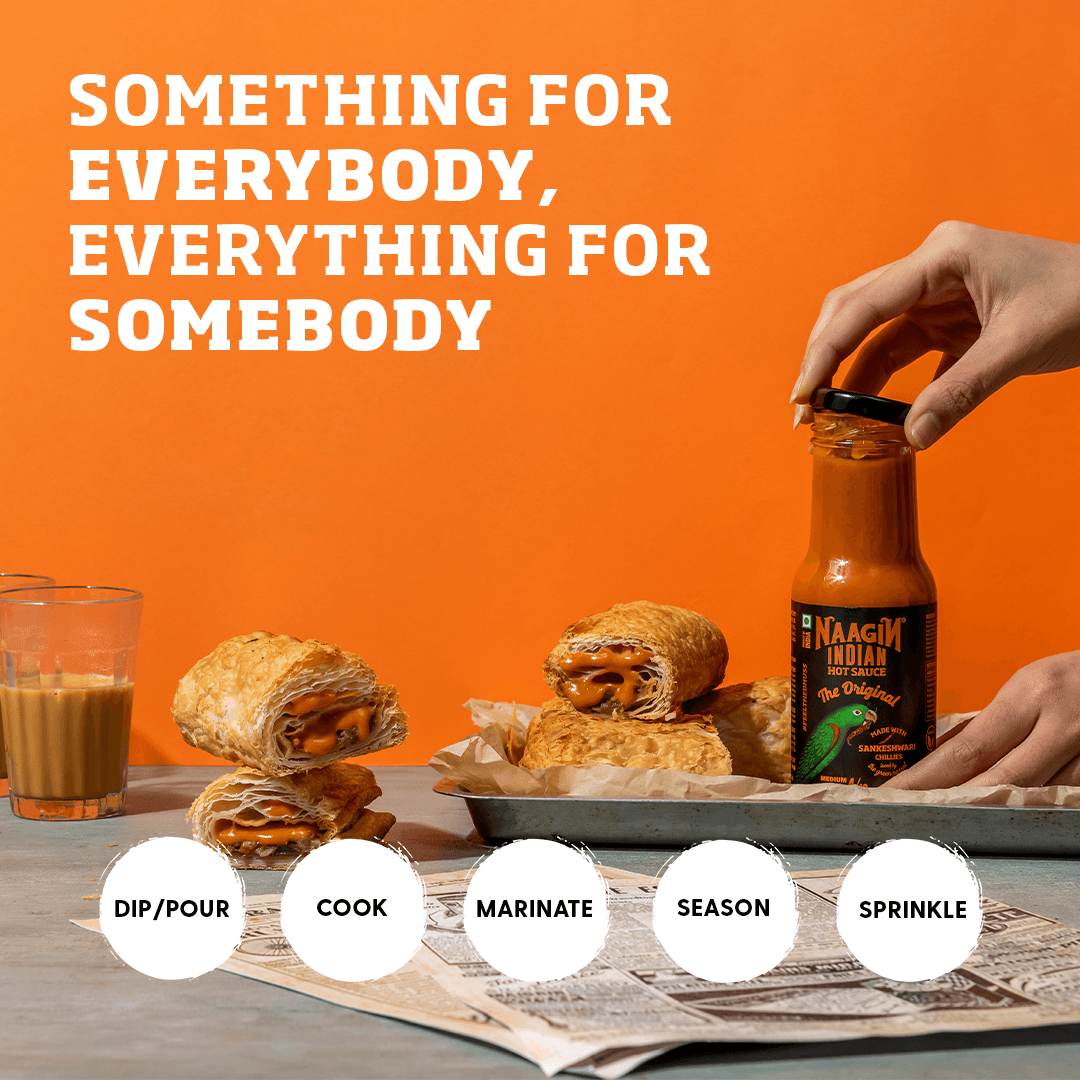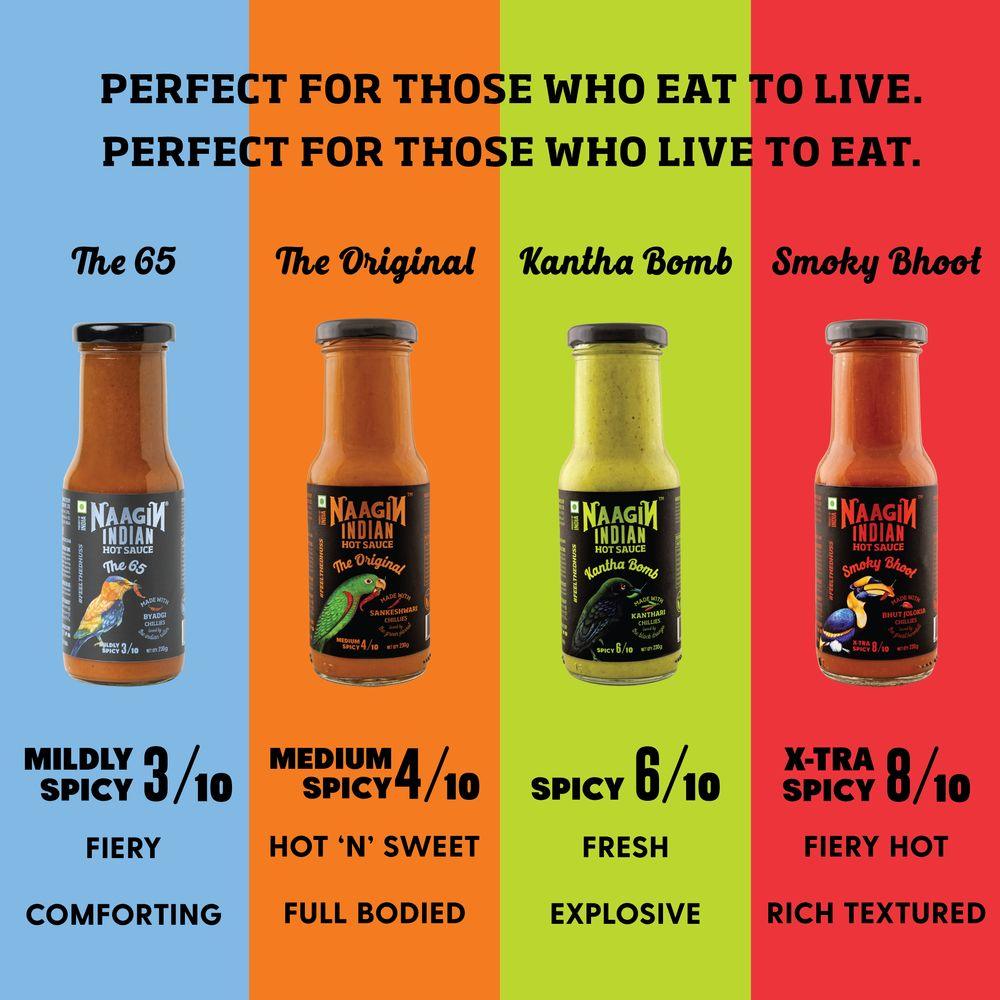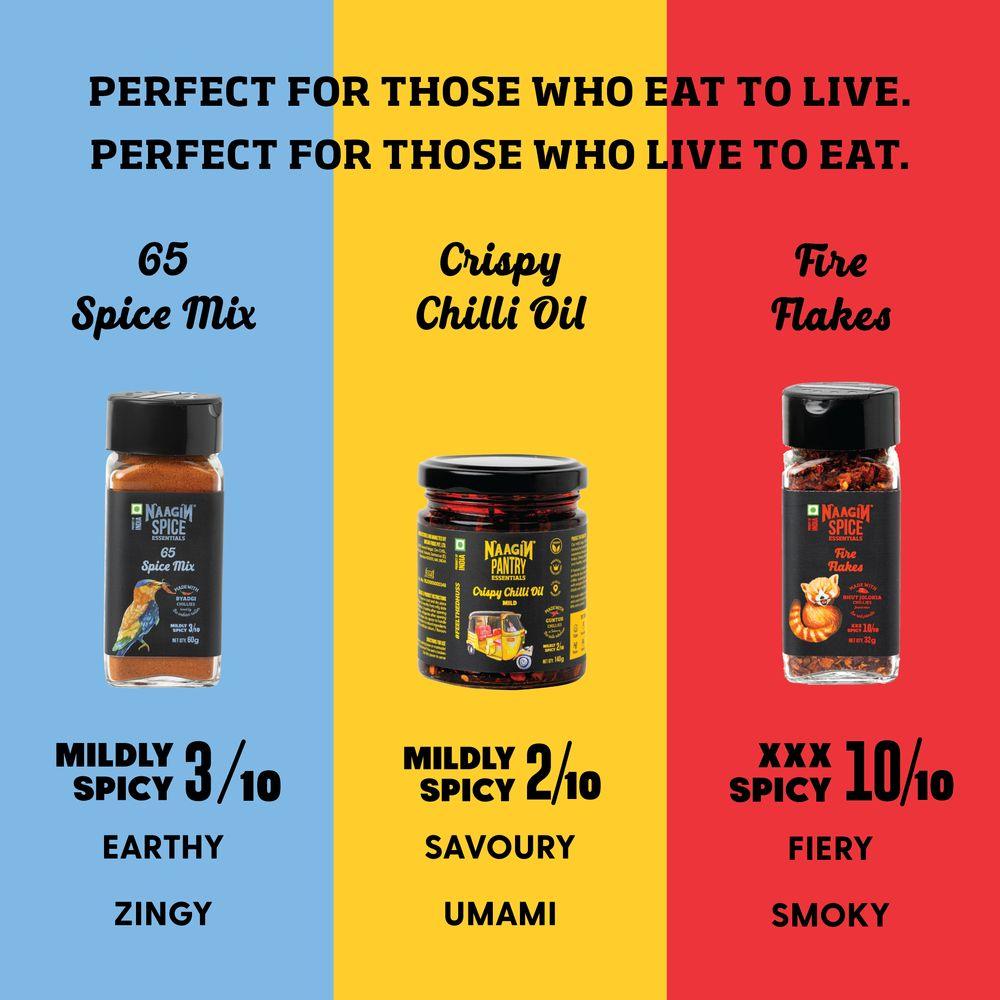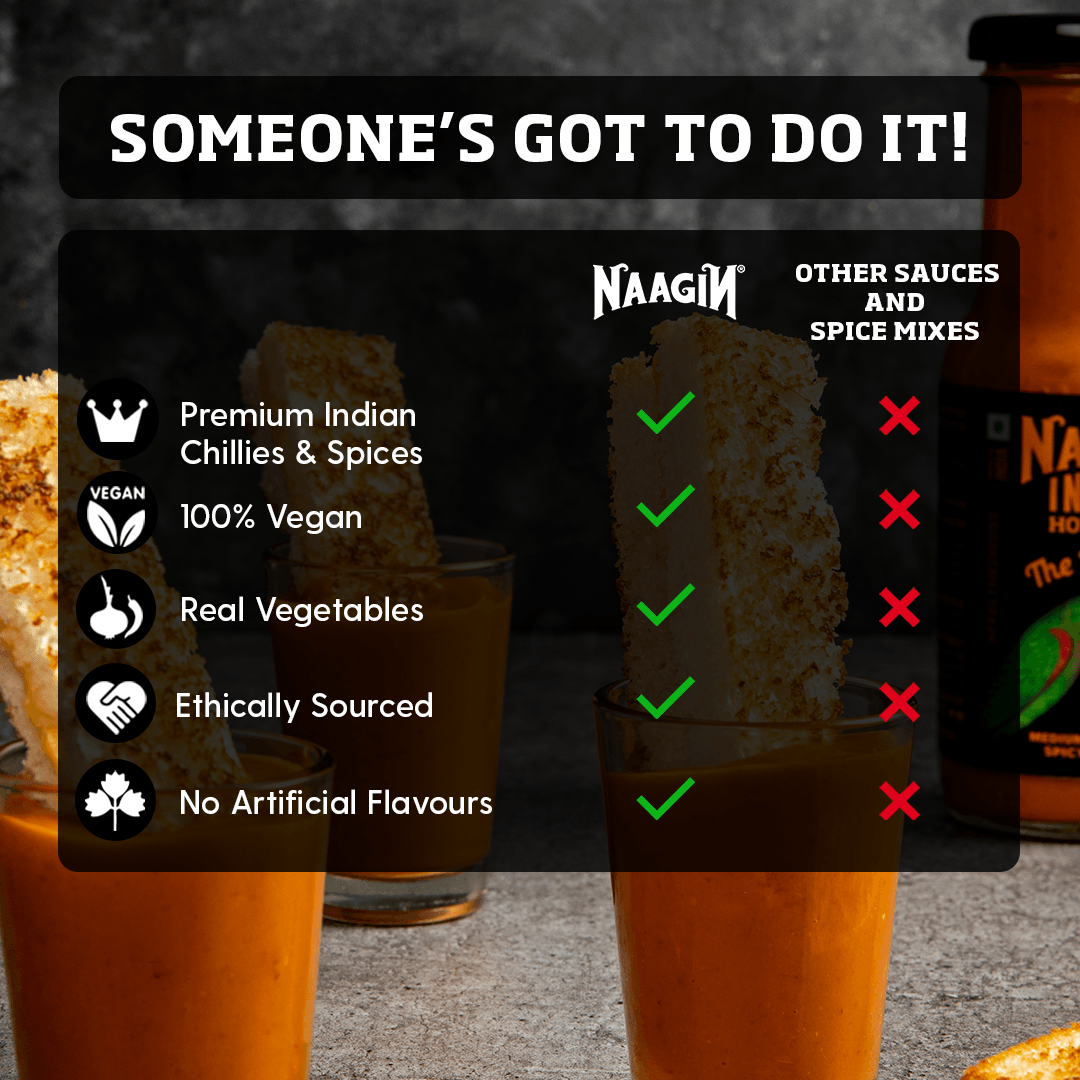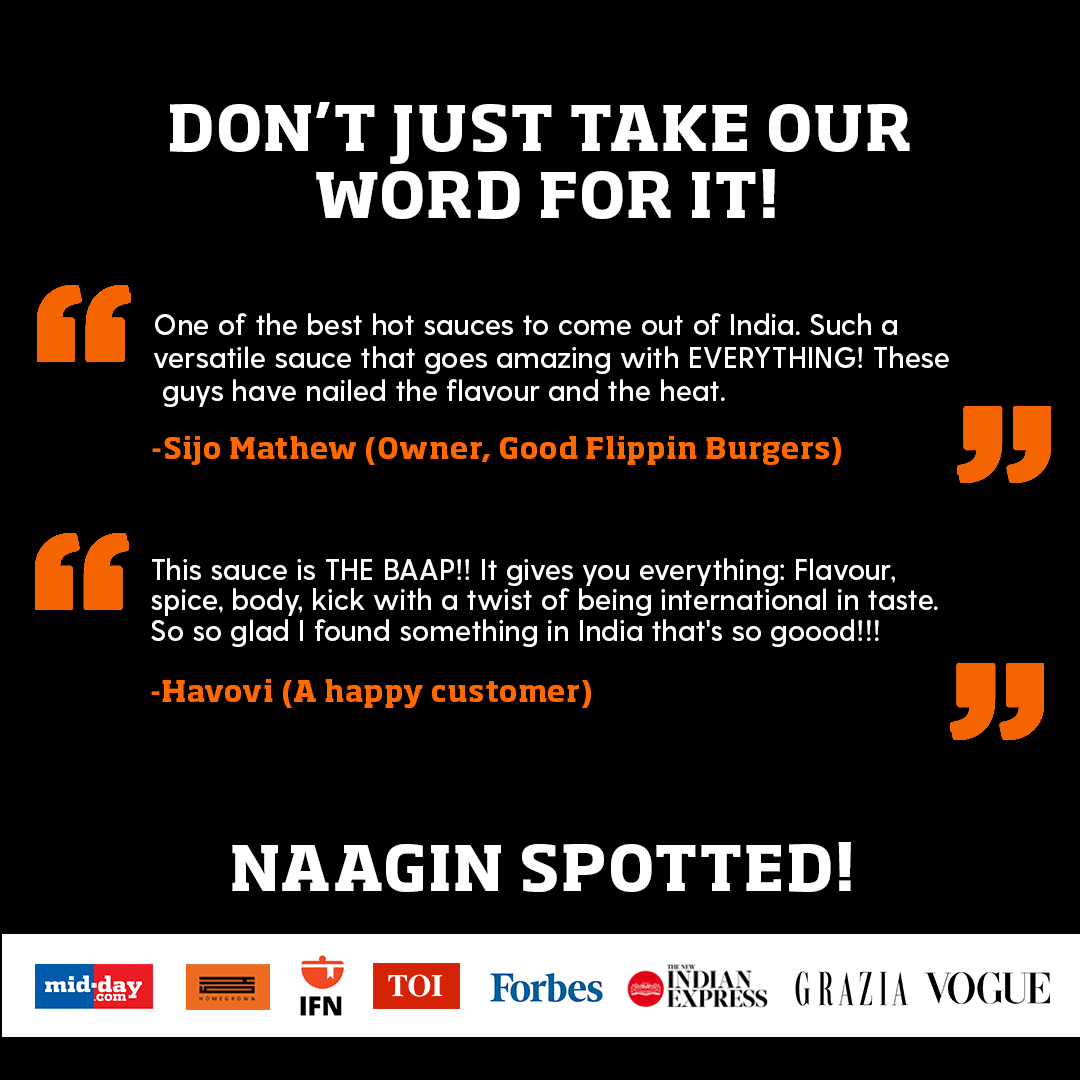 Food Explorer's Bundle
Rs. 1,400.00 Rs. 2,025.00
The complete Naagin experience! From mild to XXX spicy and sauces to chilli oil and fire flakes, this set has everything you need to bring the heat to whatever you eat in the format that suits you best!
Net Weight - 920gm + 140 gm + 32 gm + 60gm
Proudly Made in India

Ships in 1-2 working days
Free Shipping on orders over Rs. 500
Flavour Profile
The Original
A full-bodied uplifter of the bland, The Original Indian Hot Sauce was painstakingly crafted specifically for the Indian palate. We blended real vegetables, a special blend of Sankeshwari & Bhavnagri chillies, and our secret ingredients to create a distinct and elegant flavour that offers a bit of sweetness and a bit of heat in every bite.
Smoky Bhoot
Highlighting the legendary flavour and fire from the Bhut Jolokia, our specially smoked chillies create a unique flavour for the rich-textured Smoky Bhoot. Every bite takes you from a hint of sweetness to a tidal wave of flavour before the ghost finally creeps up on you!
Kantha Bomb
Unlike any 'green sauce' you've ever had, the Kantha Bomb has a real freshness to it.
Wholesome and versatile, it's got everything you want in a hot sauce - a real explosion of flavours and the perfect amount of heat with the tastiest Indian chilli you've never heard of, the Kanthari.
The 65
Our homage to the classic South Indian flavour, with a twist! The 65 hot sauce is a condiment and cooking sauce that features the homely, earthy and spicy flavour of classic comfort food like chicken 65 and paneer 65.
Crispy Chilli Oil
Naagin Crispy Chilli Oil is a truly savoury and only mildly spicy experience that pairs beautifully with Indian, Italian, Chinese and a host of other cuisines, as well as your healthy snacking favourites!
Designed for versatility, it uses a special blend of perfectly slow-roasted Guntur chillies, sautéed garlic and onions. Our Crispy Chilli Oil will instantly add both 'punch' and 'crunch' to your food. It's got a healthy dose of spicy and crunchy bits and enough oil for that perfect drizzle.
We're sure you'll find it a worthy new addition to your lifelong food exploration journey and you'll find yourself wide-eyed saying "Dude, that's awesome!"
Fire Flakes
We know our chillies and given how much people have loved our Smoky Bhoot hot sauce (and asked us why it's not spicy enough), we felt obliged to just give these fine folks what they really want but didn't say - edible fire. Our Fire Flakes will blow your mind the second they touch your tongue! You've been warned.
That said, it can add a delightful undercurrent of heat to any food and can be appreciated by anyone. Just use it sparingly. Every. Flake. Matters.
Delivering the legendary flavour and fire from the Bhut Jolokia chillies in it's full glory, our slow-roasted Fire Flakes bring you all the fire and brimstone you can handle. Every bite takes you from the slow burn of the ghost as it creeps up on you and culminating in a fiery crescendo!
65 Spice Mix
Our take on the classic South Indian 65 masala flavour but without the one-note single usage. The 65 Spice Mix is a versatile blend of spices that works wonders as a tastemaker, sprinkle or seasoning to provide your dishes with the distinctive homely, earthy and spicy '65' flavour.
Made with a finely balanced yet robust blend of spices including pantry favourites like turmeric, cumin and coriander seeds, the Naagin 65 spice mix pays homage to the distinctive flavour and aroma of the original 65 spice mix and brings it to you in a convenient ready-to-use format like never before!
You can also try it in combination with 'The 65' hot sauce to give you the complete Naagin 65 experience!
Enjoy It With
Anything you can imagine!
Indian - Bhaaji-Roti, Poha, Tandoori Kebabs, Tikki, Pulao, Idli
Home Snacks - Toasties, Rolls, Bhujia, Vada Pav, Samosas
Eggs - Fried, Scrambled, Omelette, Bhurji, Boiled
Fast Food - Burgers, Fries, Burritos, Wings, Subs
Italian - Pizza, Pasta, Garlic Bread, Spaghetti, Lasagna
Continental - Burgers, Grilled-Fried-Roast meats, Stir-fry Vegetables, Sandwiches, Salads
WHAT WE BELIEVE IN

Real Ingredients

Premium Indian Chillies
Premium Indian Spices

100% Vegan

Local Produce
How hot are the sauces?
How hot are the spice and pantry essentials?
What is capsaicin?
What is umami?